About Us
Most unique and well-appointed lodging and vacation rental in Hocking Hills.
Like all of the properties operated and cared for by Ohio Luxury Lodging, including Laurel Run Farm and Webb Pointe, Bourbon Ridge Retreat is a true diamond in the rough.
As such, our guests enjoy the full attention of our staff from the moment our customer service representative picks up the phone or types the first line of an e-mail, through their actual visit and beyond, because we do not just want our guests to be told they are our No. 1 priority, we want them to feel that way, too – hopefully again and again.
We sincerely hope it's clear, even to our website visitors, that we at Ohio Luxury Lodging maintain, update and care for our properties like they have been in our family for generations because we want individuals, couples and families to rely on us for the best in care and comfort for generations to come.
We believe our straightforward, no-holds-barred commitment to quality and attention to our guests every detail makes the lodging experience we offer the pinnacle of Hocking Hills hospitality alternatives
Luxury Cabins & Lodges in Hocking Hills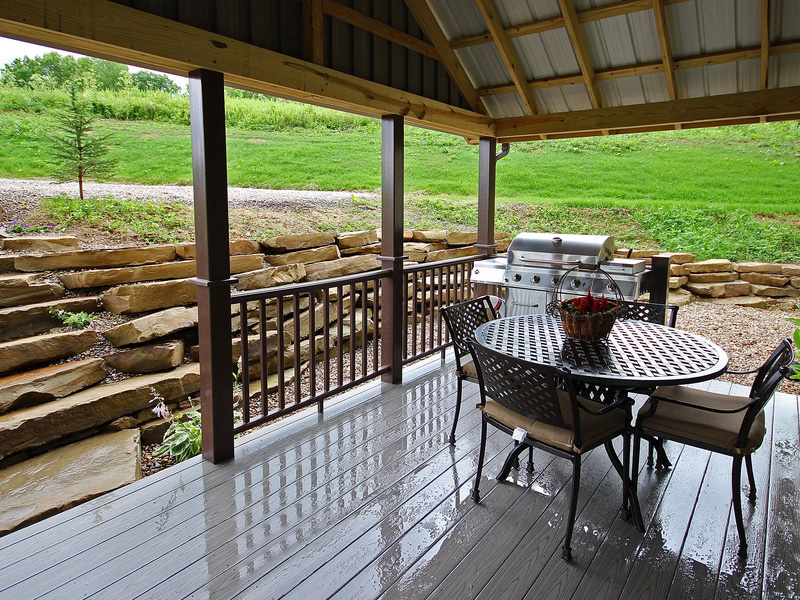 From the uncompromising style, cleanliness and comfort of the cabins, lodges and the surrounding landscape, to the at-your-service, individualized attention our staff demands of itself; Bourbon Ridge Retreat defines the above-and-beyond level of lodging excellence and customer service the Ohio Luxury Lodging brand has committed itself to since before any plans even got put to paper.
You see: The founders of Ohio Luxury Lodging envisioned a level of client-centered recreation property management largely unheard of throughout the region and beyond, well before they even knew what these properties would look like.
That's because they have built their business on sound principles like honesty, commitment, sincerity, workmanship, quality and longevity – because these traits make good things better. And where they come from, you cannot have too much of a good thing when it comes to meeting and exceeding their guests' expectations.
Just email us through our Contact us page or call 1(800)-836-9279 for more details and to plan your one-of-a-kind getaway today.
By adhering to these kinds of rigid quality standards, which by the way are on par with some of the top hospitality management firms in the world, guests are able to enjoy an incomparable Hocking Hills luxury experience through details like these:
An uncompromising commitment to providing the cleanest, most sanitary accommodations available.
Providing the most up-to-date, high-quality comfort and entertainment equipment and facilities on the market.
Ensuring each and every lodging option comes fully stocked with courtesy offerings like a coffee maker, coffee and filters; spices, cookware; place settings, utensils and cleaning supplies – all the things we so often forget at home.
Routine trash pick-up and pool/hot tub maintenance by a professional, courteous staff.
A handshake and a hello: Because Hocking Hills offers such a variety of lodging options – from austere cabins in the woods to higher-end, family-sized lodges and retreats – management styles vary. Some innkeepers simply leave a key under a doormat for its arriving guests, tut with Ohio Luxury Lodging, guests are met upon arrival by a staff member who shows them around and makes sure they are comfortable and have everything they could need.
Why stay at Bourbon Ridge Cabins & Lodges?
Bourbon Ridge Retreat offers secluded luxury lodges & cabins in Hocking Hills, whether as a couple, a group of friends, family or something on the scale of an intimate wedding or a small business retreat. It offers beautiful, picturesque surroundings and luxurious, high-end appointments that go well beyond what most of us are accustomed to.
The staff and personnel associated with Bourbon Ridge Retreat are committed to going well above and generously beyond what most guests are used to in a Hocking Hills getaway. But there's much more to Bourbon Ridge than that.
An austere and intriguing backdrop
It is not every destination that can boast such a lush, 200-plus acre spread, replete with Mother Nature's local charm. Soft, green and brown ripples make up the Hocking Hills landscape and the land on which Bourbon Ridge Retreat sits is a characteristic plot.
Situated among the region's trademark Appalachian Foothills and embellished with treasures which simply are not available everywhere these days, Bourbon Ridge Retreat just looks like something out of a serene dream.
From the moment, guests turn off a paved county road onto its pine-grove speckled acreage, past the old, patina-rich wood-and-metal barn and up along the gravel-paved path, it's apparent they are leaving something behind.
Whether it is the stress and complexities of their daily grinds, the boxed-in existence of city and suburban life or time itself; something gets washed away here. It is clean. It is fresh. It is natural and it is inviting. It is nowhere else they would rather be.
Exclusivity
No matter what your plans, while you are in Hocking Hills. Bourbon Ridge Retreat is equipped to ensure your stay's privacy and comfort.
No – a stockade fence, a brick wall, does not surround it or even thick shrubbery – but each and every guest at Bourbon Ridge Retreat is guaranteed security and privacy. At no time during your visit should you not feel completely at home, which is exactly how we want you to feel during your stay: right at home.
Our registration protocol, personalized service, and the fact that a representative from Ohio Luxury Lodging will meet you in person upon your arrival, shake your hand and acquaint you with the property, all work in harmony to ensure our guests are never bothered by unwanted visitors.
It is your getaway and we want it to be exactly how you pictured it or, better yet, above and beyond.
Numerous lodging options that fits your need
While Bourbon Ridge Retreat offers the opulence and rustic splendor of its focal-point accommodation, The Maker's Lodge, The Ridgemont Lodge, The Angel's Envy Lodge and two equally luxurious and comparably equipped luxury cabins in Hocking Hills, The Bookers Cabin and The Woodford Cabin – each of which can sleep four people.
Depending upon their specific needs, groups may even arrange to occupy all 3 lodges and 2 cabins on the property in cases like weddings or corporate retreats.
Variety
Between the peerless level of luxury, personalization and convenience Bourbon Ridge Retreat offers its guests and the wide array of attractions and activities available throughout Hocking Hills.
"Bored" is rarely, if ever, a word that's able to find its way into the minds or through the lips of our guests. Among the on-site diversions are:
Five miles of groomed hiking trails
A 16-person hot tub at the lodge and a smaller, custom-sized hot tub at each of the luxury cabins
A giant, in-ground fire pit with stone seating
A two-tiered, custom wedding ceremony site
Outdoor games like corn hole and bocce
Pine-tree maze (trails)
Five acres of impeccably groomed yard space
Generous, wide-open fields full of wildflowers, calla lilies and fruit trees
Less than a half-hour drive from Hocking Hills State Park's numerous sites, zip-lining, off-road vehicle riding, hiking, fishing, shooting, hunting, biking and horseback riding, among other pursuits
Sit down dining and take-out options
Historical interests, a winery and enough shopping to satisfy even the most discriminating bargain hunter.
Cabins & Lodges with Modern conveniences
While Bourbon Ridge Retreat is one of the finest examples of rustic-retreat vacation rental properties in Hocking Hills, it's far from being stuck in the stone ages.
Alongside its austere, earthy persona a host of modern, high-tech, cutting-edge conveniences truly enable guests at Bourbon Ridge Retreat to experience the best of both worlds.
Each and every luxury lodge & cabin at Bourbon Ridge Retreat comes complete with free Wi-Fi Internet access, a landline phone with complimentary long distance, multiple flat-panel, wall-mounted LCD televisions, satellite service and an exquisite array of indoor and outdoor lighting options.
Inside each lodge & cabin at Bourbon Ridge Retreat, guests will find a well appointed, fully functioning kitchen outfitted with the latest in coking technology and complemented with high-end, modern appliances.
To ensure guests have everything they need to feel right at home, Ohio Luxury Lodging has also stocked each kitchen with everything needed to prepare and serve complete meals: utensils, pots, pans, oils, spices and even coffee, filters, tea and a variety of condiments so guests don't have to fret about leaving these things at home.
More than just a luxury Cabin or Lodge rental
Like its role at each of its properties, Ohio Luxury Lodging sees itself as more than just a provider of high-end luxury vacation and lodging rental in Hocking Hills. It's also a steward of the land it maintains.
By seeing our opportunity to not only raise the bar among Hocking Hills luxury lodging alternatives, but also to act as conservationists, we're helping to ensure there will be wild, beautiful places like Bourbon Ridge Retreat, Laurel Run Farm and Rush Resort for generations to come.
For example, we've partnered with the Ohio Division of Forestry at Bourbon Ridge Retreat through a grant, which has allowed us to plant some 5,000 fruit trees and 6,000 hardwoods.
We recycle, reuse and repurpose many of the natural resources our properties provide to us.
From hand-hewn bed frames made from fallen trees harvested on site to providing a sanctuary for wildlife and helping to maintain a well-balanced, native ecosystem throughout all of our properties; Ohio Luxury Lodging hopes to lay the groundwork for the kind of conservation-minded property management that will benefit and help preserve our most precious resources