Book Now
Angel's Envy – Luxury Lodge in Hocking Hills
Lodge
Sleeps 24
16 Persons Hot Tub
6.5 Baths
8 Bedrooms
Indoor Outdoor Pool
Stone Seated Firepit
Theater Room
Head away for a holiday like no other at Angel's Envy Lodge. The newly built and most recent addition to Bourbon Ridge Retreat's plethora of luxurious lodges, Angels Envy is yet another absurdly luxurious country retreat nestled in the heart of Hocking Hills' lush countryside.
Fusing rustic charm with modern amenities, Angels Envy is a 7,000+ square foot country house that comfortably accommodates up to 24 people.
With 8 incredible bedrooms (5 bedrooms with King beds, 2 bedrooms with a Queen and one set of Twin bunk beds and 1 bedroom with three sets of Twin bunks beds) and six and a half fully equipped bathrooms, there's a reason this lodge in Hocking Hills has been named Angels Envy! It may be vast, spacious and fit to house a whole family or team of colleagues, but it's also warm, inviting and filled with personal, unforgettable features.
Heated Indoor-Outdoor Pool
Like its bedrooms. All feature smart TV's, plump mattresses, airy pillows and the softest linens for a truly restful slumber. There are a series of custom-built bunk beds too – so no one pulls the short straw sleeping on a blow-up!
You'll be eager to wash away the day's hike and soothe those aching muscles in one of six premium bathrooms too. We have impeccable standards, which means all bathrooms are fully tiled, have walk-in showers, elegant basins and fluffy towels as standard and they are immaculately clean, guaranteed.
Downstairs, the beautiful living area draws people together with its luxe, laid-back atmosphere, furnished with the finest leather couches, custom built coffee tables and snuggly throws. The neutral décor creates a peaceful environment; a place to switch off and watch Satellite TV.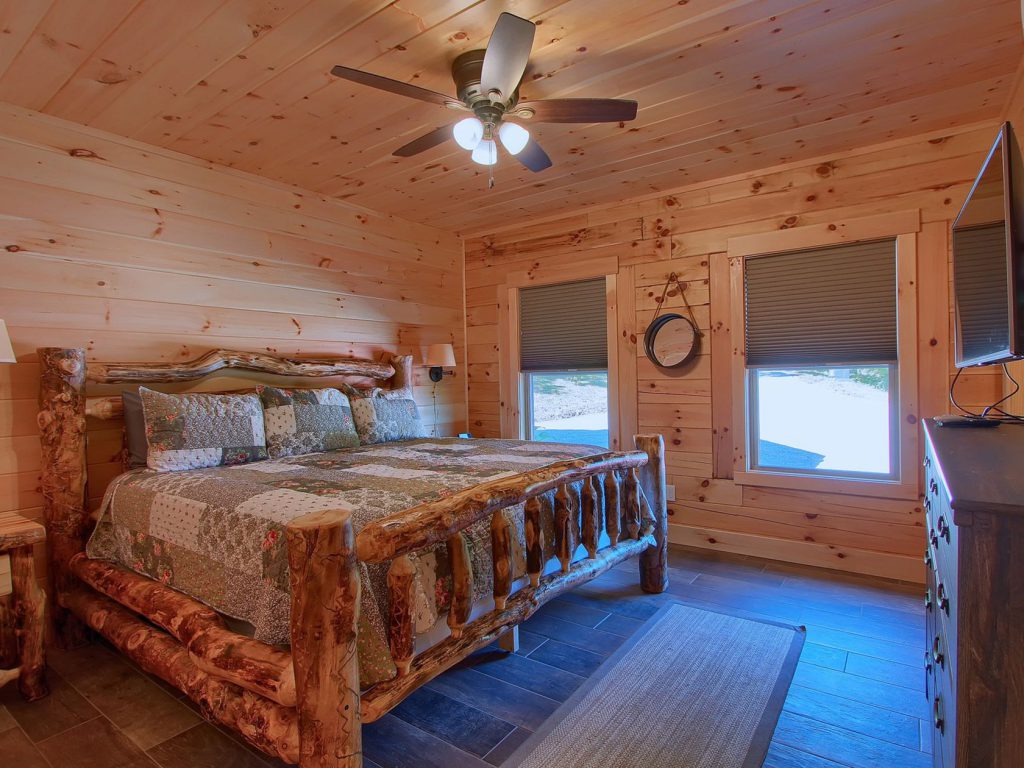 When it comes to satisfying rumbling tummies, enthusiastic cooks will love creating gourmet dishes in the top-of-the-range kitchen. It's been designed with the foodie in mind, so you'll have all the appliances, stemware and granite topped surfaces you need to whip up a feast. An ice-maker ensures you can always grab a cold drink, while the fully stocked kitchen has everything you need to create an a la carte menu.
Be sure to spend at least one evening inside the lodge's incredible theatre. Find your favorite seat amongst the plush recliners and sit back with the family to enjoy a film from our DVD library. You're guaranteed a big-screen experience with quality surround sound, stunning 4k picture with optional 3D display in super dark surroundings.
On the days you're not hiking through Hocking Hills, or walking across a custom constructed 82 ft suspension bridge, enjoy a bit of friendly competition by challenging friends or colleagues in the Angels Envy games room. With its own bar, top of the range pool table and 10-person poker table and poker set, it's ideal for settling scores – the losing team is on drinks duty!
Or, for a more relaxing pass time, enjoy a spa-like experience in the incredible 20×45 foot heated indoor-outdoor pool. Constructed with 3 levels of depth, so you can paddle or swim lengths, the indoor-outdoor design means you can enjoy a dip no matter the season. It's the pinnacle of luxury living, with a suspended glass wall which allows you to swim into the outside grounds.
Continue your aquatic adventure outside in the 16-person hot tub. The combination of the heated jacuzzi and fresh Hocking Hills air is both refreshing and utterly relaxing. We've even opted to fill both the pool and hot tub with salt water to uphold out commitment to a more eco-conscious way of living.
Surrounded by manicured lawns and sweeping hills, the pool gaming area is sure to keep even the most active guests busy, with basketball and volleyball pool games, tether ball and lawn games. Beyond, there's over 5 miles of groomed trails to explore, creeks to be discovered and wildlife to spot. Head out with the entire party to take in all the magnificent scenery Hocking Hills has to offer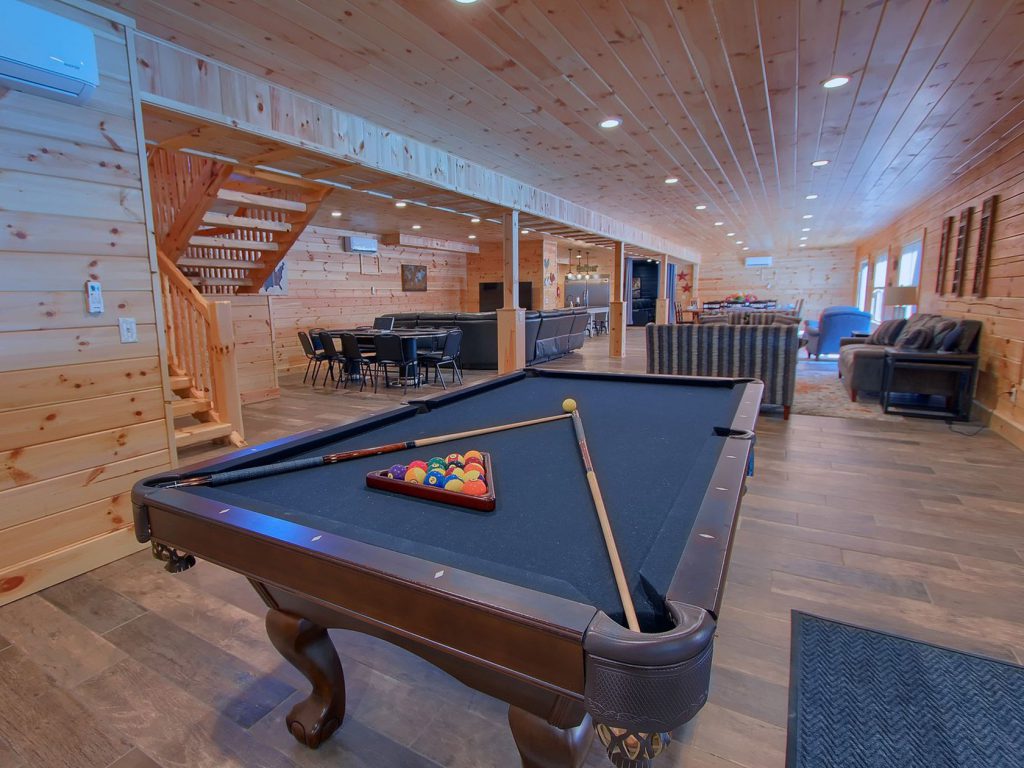 When you return to the lodge, we'll provide propane for you to cook up a mouth-watering dinner on the outside grill. There's a dedicated area with its own set of premium utensils, counter space and seating area big enough for the whole group. It's the perfect place to throw a memorable family birthday bash or summer soiree. Then, when everyone's fed and watered, fetch the marshmallows and light the in-ground fire pit. Surrounded by comfortable seating, it's a secluded spot to reminisce on the day, play card games and tell spooky stories until the early hours!
Relaxing, private and incomparable, Angels Envy is the only choice when it comes to whisking away your team or getting the whole family together for an unforgettable vacation.
**Pool heat is included in the nightly rate. The walls and dome enclosures are in place at Management's discretion pending the weather – before Memorial Day and after Labor Day the wall will be in place, no exceptions. The dome enclosures are NOT to be operated by anyone other than our staff members.**
Luxury Lodge Availability
Dec 2023
Su
Mo
Tu
We
Th
Fr
Sa
01
02
03
04
05
06
07
08
09
10
11
12
13
14
15
16
17
18
19
20
21
22
23
24
25
26
27
28
29
30
31
Jan 2024
Su
Mo
Tu
We
Th
Fr
Sa
01
02
03
04
05
06
07
08
09
10
11
12
13
14
15
16
17
18
19
20
21
22
23
24
25
26
27
28
29
30
31
Feb 2024
Su
Mo
Tu
We
Th
Fr
Sa
01
02
03
04
05
06
07
08
09
10
11
12
13
14
15
16
17
18
19
20
21
22
23
24
25
26
27
28
29
Mar 2024
Su
Mo
Tu
We
Th
Fr
Sa
01
02
03
04
05
06
07
08
09
10
11
12
13
14
15
16
17
18
19
20
21
22
23
24
25
26
27
28
29
30
31
Apr 2024
Su
Mo
Tu
We
Th
Fr
Sa
01
02
03
04
05
06
07
08
09
10
11
12
13
14
15
16
17
18
19
20
21
22
23
24
25
26
27
28
29
30
May 2024
Su
Mo
Tu
We
Th
Fr
Sa
01
02
03
04
05
06
07
08
09
10
11
12
13
14
15
16
17
18
19
20
21
22
23
24
25
26
27
28
29
30
31
---
Rates vary by season. You can view up to date pricing and availability by clicking 'Book Your Stay' above.
*A two night minimum is required for all stays – three nights over major holidays. We are unable to accept requests that create a one night gap in our availability. Any discounts or promotions will be shown at the 'Book Your Stay' link above. All reservations are requests and subject to management approval.*
Gallery
Policies
The booking age requirement for the Lodge is 30 years of age. Valid ID may be required upon check-in. We do not rent our facilities for after-prom, high school graduation parties, college formal parties, bachelor/bachelorette and fraternity or sorority parties. All events are subject to approval by owners/management prior to confirmation of a reservation. We do not allow ANY visitors without management approval. Only registered guests for your stay will be given access to the property. Others will be turned away. No exceptions.
Travel Insurance
As of April 2020, the travel industry changed due to Covid-19. We encourage you to purchase trip insurance in this time of uncertainty as another way to cover yourself as a traveler if you want additional coverage outside of our cancellation policies. If this is something you are interested in, simply follow this link – https://www.squaremouth.com/ – and choose "start a new search", you can enter in your trip details and find the best policy to suit your needs.
Per our cancellation policy, refunds for communicable diseases or viruses are only offered if there is a full travel ban in place. We encourage you to purchase trip insurance through this third-party vendor to cover your trip for ANY REASON (weather, illness, etc) you need to cancel – https://www.squaremouth.com/ – please call our office for more information.
Security Deposit
In addition to the rental fees, a $1000.00 security deposit is required for all reservations.
Note: We require the security deposit 14 days prior to your check in date. Deposits are usually received back within 5-7 business days after your departure. The security deposit will be conditionally but HAPPILY REFUNDED pending we receive the accommodation back in the same condition in which it was given to you.
Rates & Bookings
The nightly rate does not include Hocking County Lodging Tax of 6%, Ohio Sales Tax of 7.25%, or ReservationsOnline.com service fee of 6%. All will be applied at the time of booking.
*Reservations that create one night openings during our in-season, will not be accepted unless approved by management.*Our reservation system may not quote a discounted price – We will honor all discounts and apply them before charging your credit card, please call our office at 800.836.9279 to confirm discounted pricing.
Payment
Advance payment of at least 50% of your stay is required at the time of reservation. Any balance including the security deposit is due no less than 30 days prior to your stay. Visa, MasterCard, and Discover are accepted. Personal check or bank check are the only form of payment accepted for the security deposit. Extra charges apply for heating of the swimming pool. Quoted prices are subject to change due to changing gas prices – call closer to your stay for details.
Cancellation Policy
Reservations that are cancelled less than 60 days after you book a reservation, will receive a refund of your prepaid rental fee and security deposit (if already paid), less a cancellation fee of $300*. Cancellations outside of 60 days (from the time you booked) but more than 60 days prior to your stay will receive a 50% refund of your prepaid rental fee and security deposit (if already paid).
*Our policy does not allow refunds for cancellations less than 60 days prior to your stay, however, we will consider these rare events on a case by case basis to determine if there is anything we can do to mitigate a loss for both parties. In the event of an early departure, we cannot give any kind of refund. There are no cancellations due to inclement weather. We do have a large whole house generator that automatically kicks on. Changes to the arrival or departure date are subject to our cancellation policy and/or a $125 change fee. Lessor may cancel this reservation at any time by returning your prepaid amount.
Check-In
Check-In is between 4:00PM – 6:00PM at the lodge where you will be greeted by a member of Hocking Hills Management Company.
Check-Out
Check-Out is by 11:00AM.
Damages
We reserve the right to charge your credit card for any damages or excessive cleaning from your stay. If you notice any problems upon checking in, please let us know right away.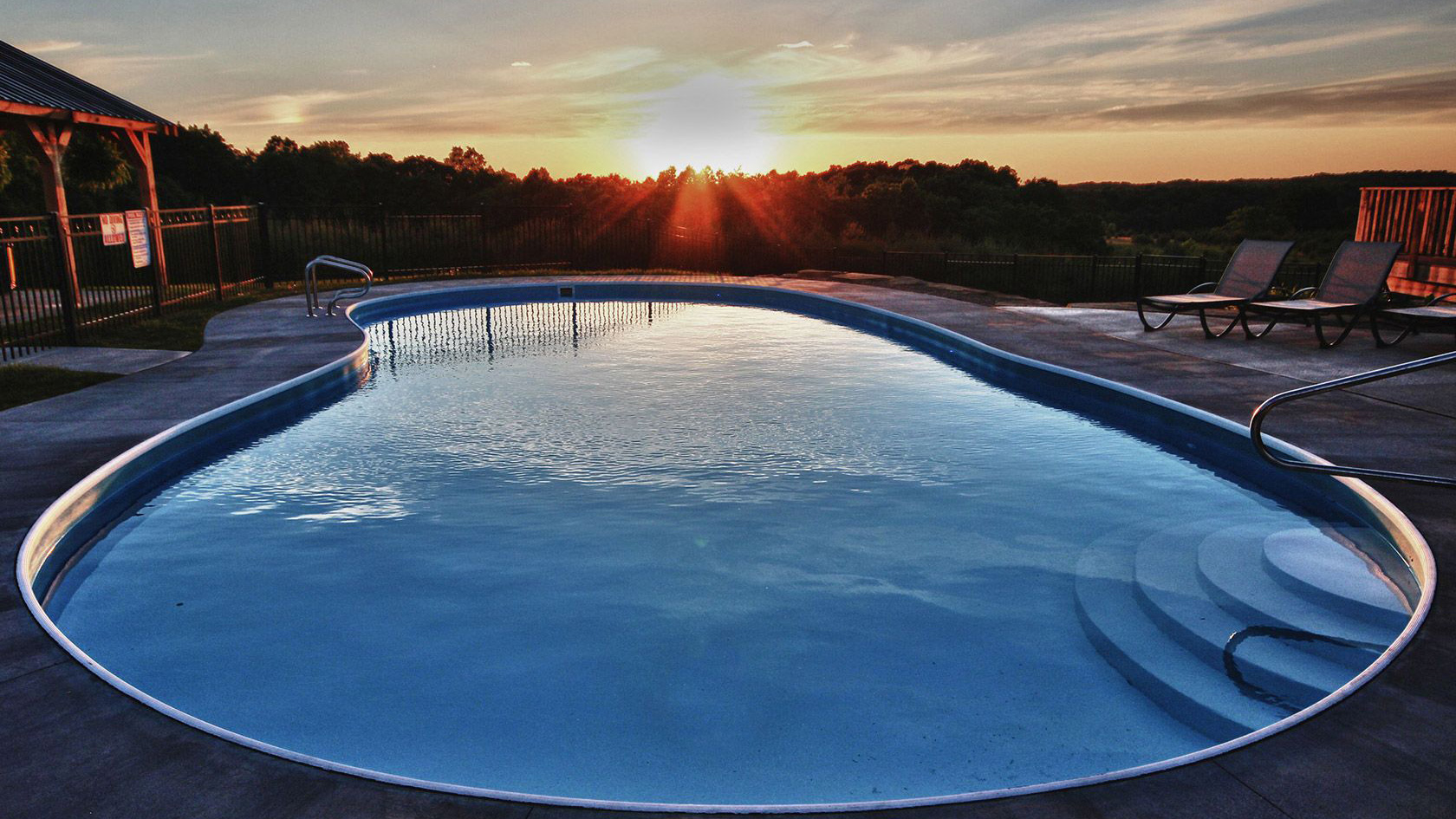 Maker's - Lodge for Large Family
Sleeps 24
4.5 Baths
7 Bedrooms
Fire Brick Oven
Game Room
In-ground Pool
Theater Room
Lavishly appointed luxury lodge in hocking hills, recently redecorated and incomparably comfortable, The Makers Lodge is a two-storey, 5,800-square-foot, 7 bedrooms country estate outfitted with everything from a full-service, fully equipped kitchen, two bar areas and a two-storey fireplace, to the latest in modern conveniences and, cutting-edge entertainment and comfort. It even has its own […]
Maker's lodge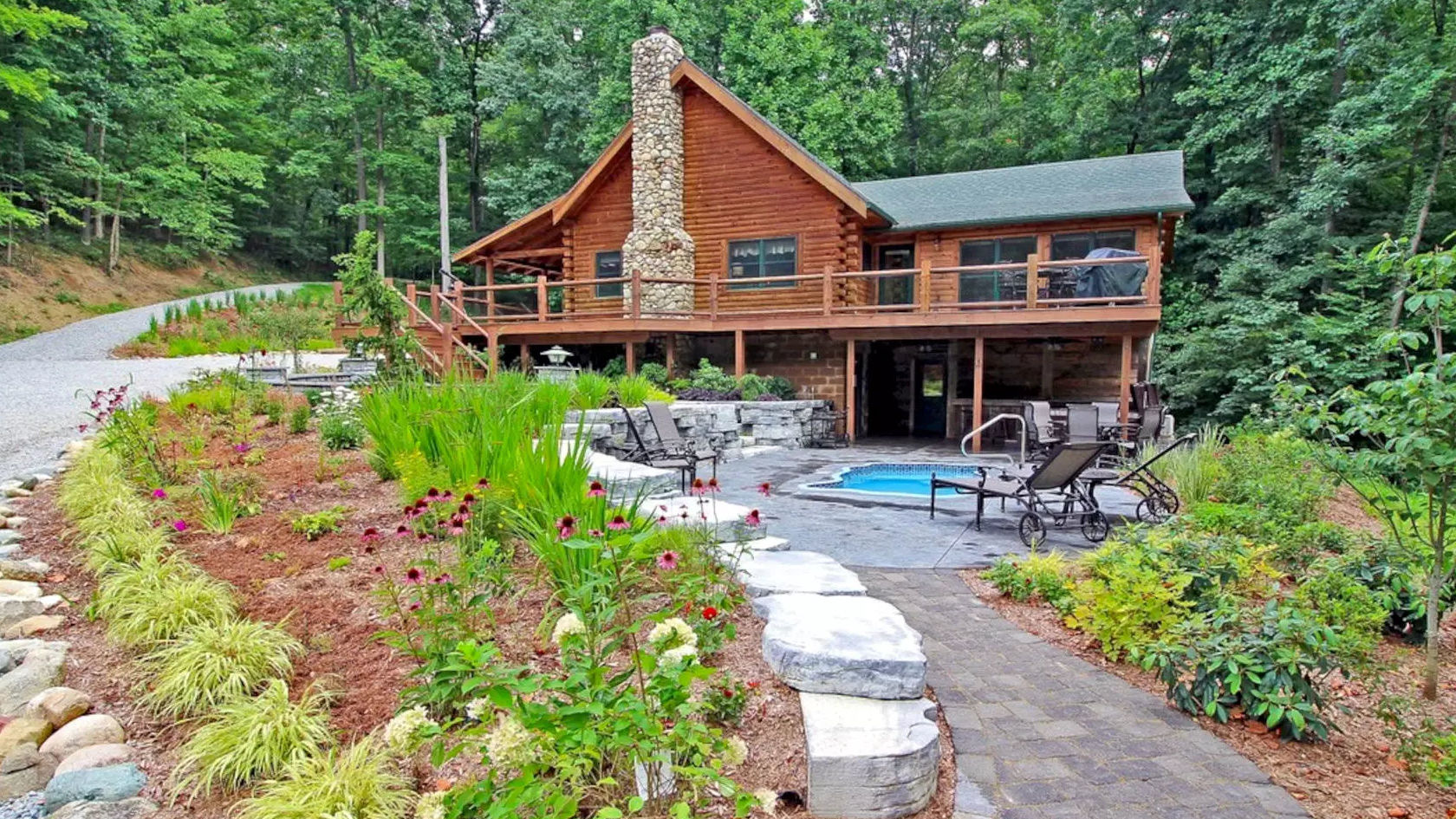 Ridgewater - Lodge With Private Pond in Hocking Hills
Sleeps 12
3 Baths
3 Bedrooms
Outdoor Jacuzzi
Private Pond
Salt Water Pool
Only a short 10 minute drive from Bourbon Ridge Retreat, nestled in over 60 private acres in The Hocking Hills: we welcome you to experience Bourbon Ridge Retreat's sister property – The Ridgewater lodge. Enjoy pure privacy with your group of up to 12 family and friends. From the moment you walk in, you will […]
Ridgewater lodge
The Hocking Hills Luxury Lodge
Sleeps 28
3 Private Ponds
6 Baths
7 Bedrooms
Hot Tub
In-ground Pool
Stone Firepit
Located a short drive away from Bourbon Ridge Retreat, nestled in over 50 private acres in The Hocking Hills: we welcome you to experience Bourbon Ridge Retreat's newest sister property – The Hocking Hills Luxury Lodge.
lodge