Book Now
Maker's – Lodge for Large Family
Lodge
Sleeps 24
4.5 Baths
7 Bedrooms
Fire Brick Oven
Game Room
In-ground Pool
Theater Room
Lavishly appointed luxury lodge in hocking hills, recently redecorated and incomparably comfortable, The Makers Lodge is a two-storey, 5,800-square-foot, 7 bedrooms country estate outfitted with everything from a full-service, fully equipped kitchen, two bar areas and a two-storey fireplace, to the latest in modern conveniences and, cutting-edge entertainment and comfort.
It even has its own movie theater. And that's just indoors! Outside, there's an in-ground swimming pool, 16-person, in-ground commercial-grade hot tub, a cooking pavilion and even an 18th-century, European-inspired firebrick oven where guests may try their hands at making artisan pizza, flatbreads and other wood-fired baked goods: the first of its kind in the Hocking Hills lodging scene. But, as is the case with every Ohio Luxury Lodging property, the high-caliber experience The Maker's Lodge provides its guests goes far beyond what meets the eye.
Through extraordinarily thoughtful planning, conscientious engineering, impeccable craftsmanship and an unimpeachable commitment to rigorous maintenance and unblemished cleanliness, Ohio Luxury Lodging has infused its lofty standards into the lifeblood of this piece of real estate and the experience it offers.
The Hocking Hills Luxury Lodge
Upon arrival, guests are greeted by a friendly, personable Ohio Luxury Lodging representative, who provides a grand tour to familiarize them with various systems throughout the lodge, their proper operation and safeguards. But that's just the beginning. The well-trained and conscientious staff at Bourbon Ridge Retreat offers the highest degree of ongoing maintenance and support for our guests.
We provide daily garbage pickup and pool/hot-tub maintenance, professional landscaping and recreational facility upkeep. We're also happy to address any special requests our guests may have. Quite simply, the staff dedicated to The Maker's Lodge is at its guests' service, night and day.
From the buildings and grounds, themselves, to the people who make them sing such a sweet song to our guests, there's nothing even remotely ordinary or run-of-the-mill about The Maker's Lodge.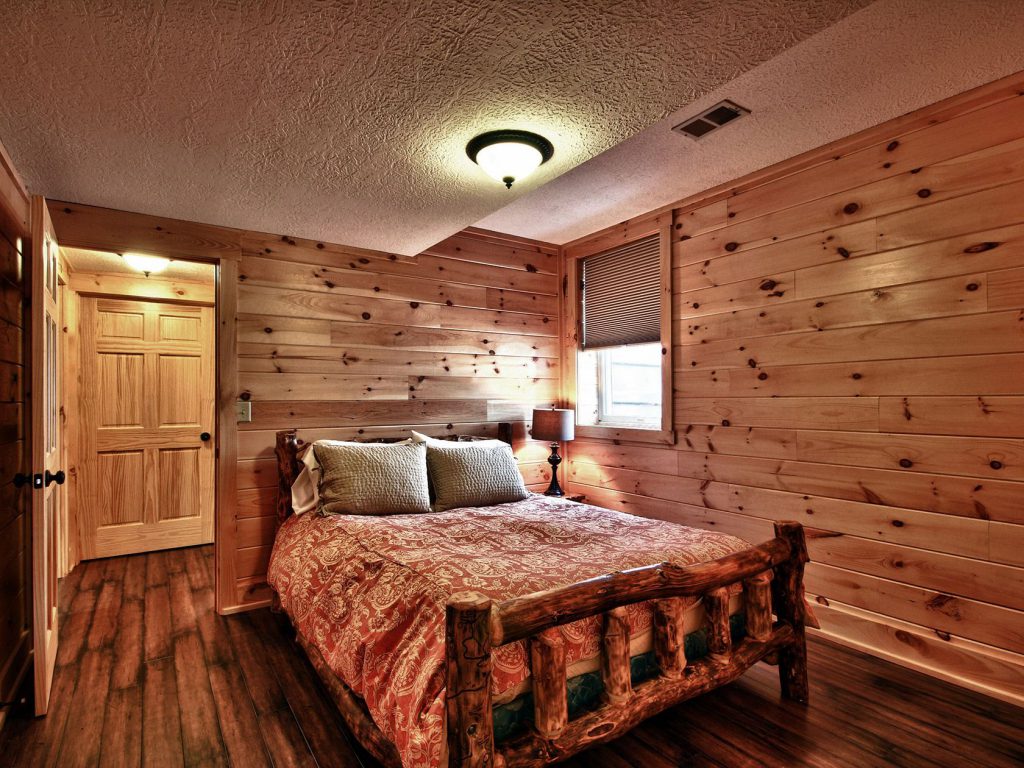 It's true: There are numerous Hocking Hills lodges and vacation rental options available in the area. They run the gamut from rugged wilderness hideaways to the kind of high-end, first-class accommodations offered at Bourbon Ridge Retreat.
Many claim to offer a "Luxury" experience. We will guarantee it, however. If you're in the market for an unforgettable experience – whether a family reunion, small, intimate wedding, romantic getaway, corporate retreat or other special occasion – look no further than The Maker's Lodge at Bourbon Ridge Retreat for your ultimate high-end Hocking Hills Lodging experience.
Inside the Makers Lodge, guests will find quite possibly the finest use of 5,800 square feet they have ever encountered. Stocked with the best appliances, furnishings and technology commercially available.
The Makers Lodge is sure to satisfy even the most discriminating guests. Between the fully stocked gourmet kitchen and two-story great room, the seven plush bedrooms, entertainment-ready rec room and 15-speaker, high-definition-equipped movie theater complete with 14-foot screen; The Makers Lodge isn't full of living space. It's full of thriving space.
The kitchen is classy, cosmopolitan, refined, efficient and elegant, featuring premium, stainless steel appliances, a brick mosaic backsplash, hardwood floors and granite countertops throughout. There's ample seating (including an 18-plates dinner table – a favorite of families who visit) and high-end equipment, including a 5-burner cooktop; dual, stacked ovens and a microwave; two refrigerators; a separate chest freezer; plus all the extras like a commercial-grade coffee machine; four-slice toaster; crock pot and blender. The kitchen and accompanying bar are each outfitted with complete flatware, glassware, implements and utensils, as well.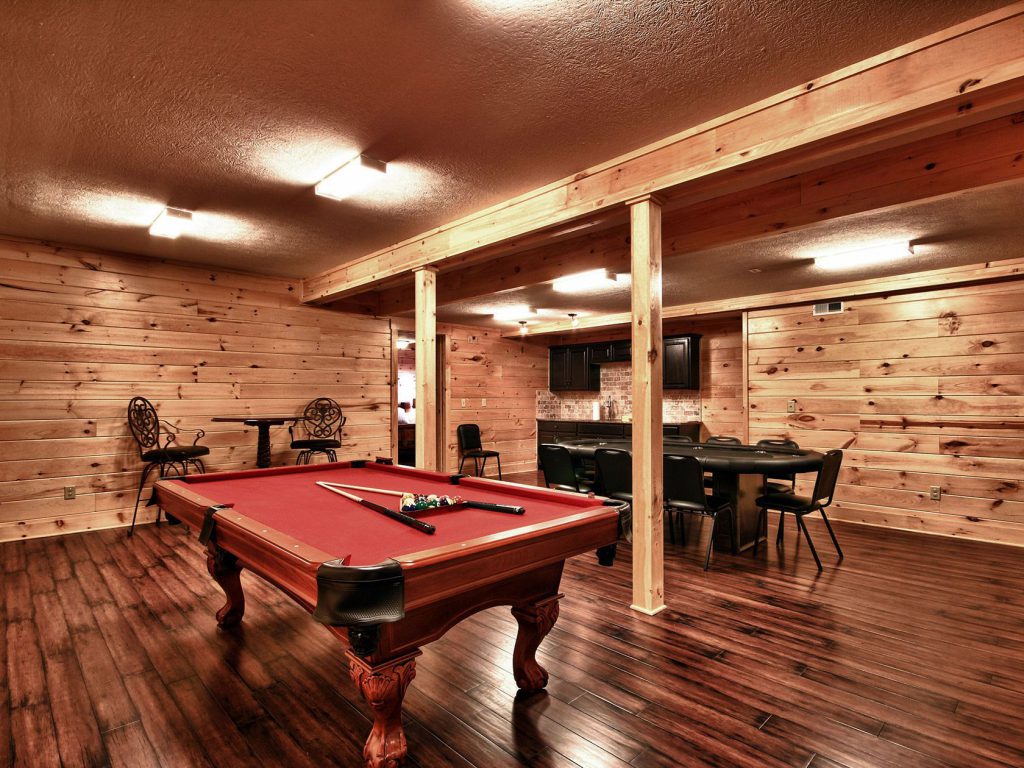 Not only does the spacious rec room inside The Makers Lodge feature a host of gaming options. It's also just a nice place to mingle.
With its hardwood flooring, numerous seating options, wet bar, beverage cooler, poker and pub tables; there are plenty of places to relax and enjoy numerous gaming pursuits or just sit back and take in the action.
Aside from the poker and pool tables, the rec room also comes equipped with a variety of board games, puzzles and coloring books.
When you book your stay in the Makers luxury lodge, you can look forward to the following signature amenities
5,800 square feet of indoor luxury
7 bedrooms
4 ½ baths
Grand 2-storey entry
Fully equipped gourmet kitchen complete with stand-alone ice maker, double oven, 5-burner cooktop, oversized fridge and secondary fridge
Master suite with king-sized bed and attached, full bath complete with all-tile, walk-in shower
Private loft area featuring two comfortable couches, one of which converts into a queen-sized bed
Movie theater with eight oversized leather recliners, leather couch and loveseat
Granite countertops throughout
Two indoor bars, one featuring a wine cooler
Utility room with high-capacity washer and dryer and a chest freezer
Numerous rec-room gaming options
16-person hot tub
Commercial, in-ground swimming pool
18' x 27' timber-frame pavilion with cooking options
Giant in-ground fire pit with ample seating options
At The Maker's Lodge at Bourbon Ridge Retreat, guests are treated to a unique, custom-tailored experience. This goes well beyond what they'll find inside our incomparably maintained lodging choices. Here, the luxury, attention to detail and the kinds of high-end extras that characterize the entire line of Ohio Luxury Lodging accommodations transcend the walls of the lodge and spill out into the luscious, well-maintained outdoor space that surrounds it. Here, families bond over bocce, barbeque and baked goods; soak up the sun next to the kidney-shaped swimming pool; relax in the commercial-grade hot tub; laugh and talk deep into the night next to the fire as Mother Nature dots the skies overhead with stars as far as the eye can see. Outside The Maker's Lodge, pleasant possibilities like these lay all around the place
Our commercial-grade, concrete, 45×20-foot, free-form, eco-friendly, kidney-shaped pool is quite possibly the crown jewel of the outdoor lineup at The Maker's Lodge, although that's certainly up for debate. It is, however, something management has gone to great lengths to perfect. From its state-of-the-art saltwater, computer-controlled filtration system and heating options to its customizable LED lighting array, the pool at The Maker's Lodge is truly a work of art. Not to mention, it's really cool and refreshing on a hot, summer day or night.
We had the 7×14-foot, in-ground, commercial-grade hot tub custom built just for The Maker's Lodge, so it blends seamlessly in with the rest of the property and its surroundings. Two sides of the hot tub face 5-foot rock walls while the other two offer breath-taking views of the picturesque Hocking Hills landscape. At night, it can be illuminated in a variety of colorful themes by way of our custom LED lighting system. It's your chance to kick back, relax and soak up the comfort in Hocking Hills' largest and only in-ground hot tub.
Situated behind the swimming pool is an 18×27-foot, timber-frame pavilion with seating for 18 and cooking options including a gas grill and griddle. The structure is equipped with two ceiling fans, overhead lighting and a custom, wrap-around bar with its own seating options.
We at Ohio Luxury Lodging are proud to introduce our guests – and the Hocking Hills lodge and vacation rental market – this one-of-a-kind, 18th Century European-design firebrick oven. A recent addition to the outdoor offerings at The Maker's Lodge, this genuine, custom-build, wood-fired masterpiece will have even the most unadventurous cooks try their hands at culinary confections like artisan flatbreads, hand-crafted, wood-fired pizzas, muffins, cinnamon rolls and all kinds of fancy, uncommon baked goods.
Aside from all of these unique appointments to the great outdoors outside The Maker's Lodge, it also boasts these impressive amenities:
More than five acres of impeccably groomed yard area with plenty of room for children of all ages run and play
Precise and extensive landscaping, which includes a variety of perennials, annuals, Boston Ferns and more than 225 tons of locally harvested stone help create a stunning and varied backdrop throughout the lodge's immediate surroundings.
Corn hole, bocce and other yard-game options
Huge, in-ground fire pit complete with stone seating for 24
Incomparable views of the impressive Hocking Hills landscape
10×10-foot pergola-topped, custom-built stone staircase.
Hocking Hills Lodge Availability
Jun 2023
Su
Mo
Tu
We
Th
Fr
Sa
01
02
03
04
05
06
07
08
09
10
11
12
13
14
15
16
17
18
19
20
21
22
23
24
25
26
27
28
29
30
Jul 2023
Su
Mo
Tu
We
Th
Fr
Sa
01
02
03
04
05
06
07
08
09
10
11
12
13
14
15
16
17
18
19
20
21
22
23
24
25
26
27
28
29
30
31
Aug 2023
Su
Mo
Tu
We
Th
Fr
Sa
01
02
03
04
05
06
07
08
09
10
11
12
13
14
15
16
17
18
19
20
21
22
23
24
25
26
27
28
29
30
31
Sep 2023
Su
Mo
Tu
We
Th
Fr
Sa
01
02
03
04
05
06
07
08
09
10
11
12
13
14
15
16
17
18
19
20
21
22
23
24
25
26
27
28
29
30
Oct 2023
Su
Mo
Tu
We
Th
Fr
Sa
01
02
03
04
05
06
07
08
09
10
11
12
13
14
15
16
17
18
19
20
21
22
23
24
25
26
27
28
29
30
31
Nov 2023
Su
Mo
Tu
We
Th
Fr
Sa
01
02
03
04
05
06
07
08
09
10
11
12
13
14
15
16
17
18
19
20
21
22
23
24
25
26
27
28
29
30
2022-2023 Rates
Rates are subject to change
Jan – Mar
Weekdays
$989/night $789/night
Apr 2022
Weekdays
$989/night $889/night
Nov – Dec 2021
Weekdays
$989/night $789/night
---
Memorial Day
3 night minimum

Rates are at "In-Season Weekend" rate of $1989/night
4th of July
3 night minimum

Rates are at "In-Season Weekend" rate of $1989/night
Labor Day
3 night minimum

Rates are at "In-Season Weekend" rate of $1989/night
Thanksgiving
3 nights minimum

Rates are at "In Season Weekend" rate of $1989/night

No check in / check out permitted on Thanksgiving Day
Christmas
3 nights minimum

Rates are at "In-Season Weekend" rate of $1989/night
New Year's Eve
3 nights minimum

Rates are at "In Season Weekend" rate of $1989/night
Gallery
Policies
The booking age requirement for the Lodge is 30 years of age. Valid ID may be required upon check-in. We do not rent our facilities for after-prom, high school graduation parties, college formal parties, bachelor/bachelorette and fraternity or sorority parties. All events are subject to approval by owners/management prior to confirmation of a reservation. We do not allow ANY visitors without management approval. Only registered guests for your stay will be given access to the property. Others will be turned away. No exceptions.
Travel Insurance
As of April 2020, the travel industry changed due to Covid-19. We encourage you to purchase trip insurance in this time of uncertainty as another way to cover yourself as a traveler if you want additional coverage outside of our cancellation policies. If this is something you are interested in, simply follow this link – https://www.squaremouth.com/ – and choose "start a new search", you can enter in your trip details and find the best policy to suit your needs.
Per our cancellation policy, refunds for communicable diseases or viruses are only offered if there is a full travel ban in place. We encourage you to purchase trip insurance through this third-party vendor to cover your trip for ANY REASON (weather, illness, etc) you need to cancel – https://www.squaremouth.com/ – please call our office for more information.
Security Deposit
In addition to the rental fees, a $1000.00 security deposit is required for all reservations.
Note: We require the security deposit 14 days prior to your check in date. Deposits are usually received back within 5-7 business days after your departure. The security deposit will be conditionally but HAPPILY REFUNDED pending we receive the accommodation back in the same condition in which it was given to you.
Rates & Bookings
The nightly rate does not include Hocking County Lodging Tax of 6%, Ohio Sales Tax of 7.25%, or ReservationsOnline.com service fee of 6%. All will be applied at the time of booking.
*Reservations that create one night openings during our in-season, will not be accepted unless approved by management.*Our reservation system may not quote a discounted price – We will honor all discounts and apply them before charging your credit card, please call our office at 800.836.9279 to confirm discounted pricing.
Payment
Advance payment of at least 50% of your stay is required at the time of reservation. Any balance including the security deposit is due no less than 30 days prior to your stay. Visa, MasterCard, and Discover are accepted. Personal check or bank check are the only form of payment accepted for the security deposit. Extra charges apply for heating of the swimming pool. Quoted prices are subject to change due to changing gas prices – call closer to your stay for details.
Cancellation Policy
Reservations that are cancelled less than 60 days after you book a reservation, will receive a refund of your prepaid rental fee and security deposit (if already paid), less a cancellation fee of $300*. Cancellations outside of 60 days (from the time you booked) but more than 60 days prior to your stay will receive a 50% refund of your prepaid rental fee and security deposit (if already paid).
*Our policy does not allow refunds for cancellations less than 60 days prior to your stay, however, we will consider these rare events on a case by case basis to determine if there is anything we can do to mitigate a loss for both parties. In the event of an early departure, we cannot give any kind of refund. There are no cancellations due to inclement weather. We do have a large whole house generator that automatically kicks on. Changes to the arrival or departure date are subject to our cancellation policy and/or a $125 change fee. Lessor may cancel this reservation at any time by returning your prepaid amount.
Check-In
Check-In is between 4:00PM – 6:00PM at the lodge where you will be greeted by a member of Hocking Hills Management Company.
Check-Out
Check-Out is by 11:00AM.
Damages
We reserve the right to charge your credit card for any damages or excessive cleaning from your stay. If you notice any problems upon checking in, please let us know right away.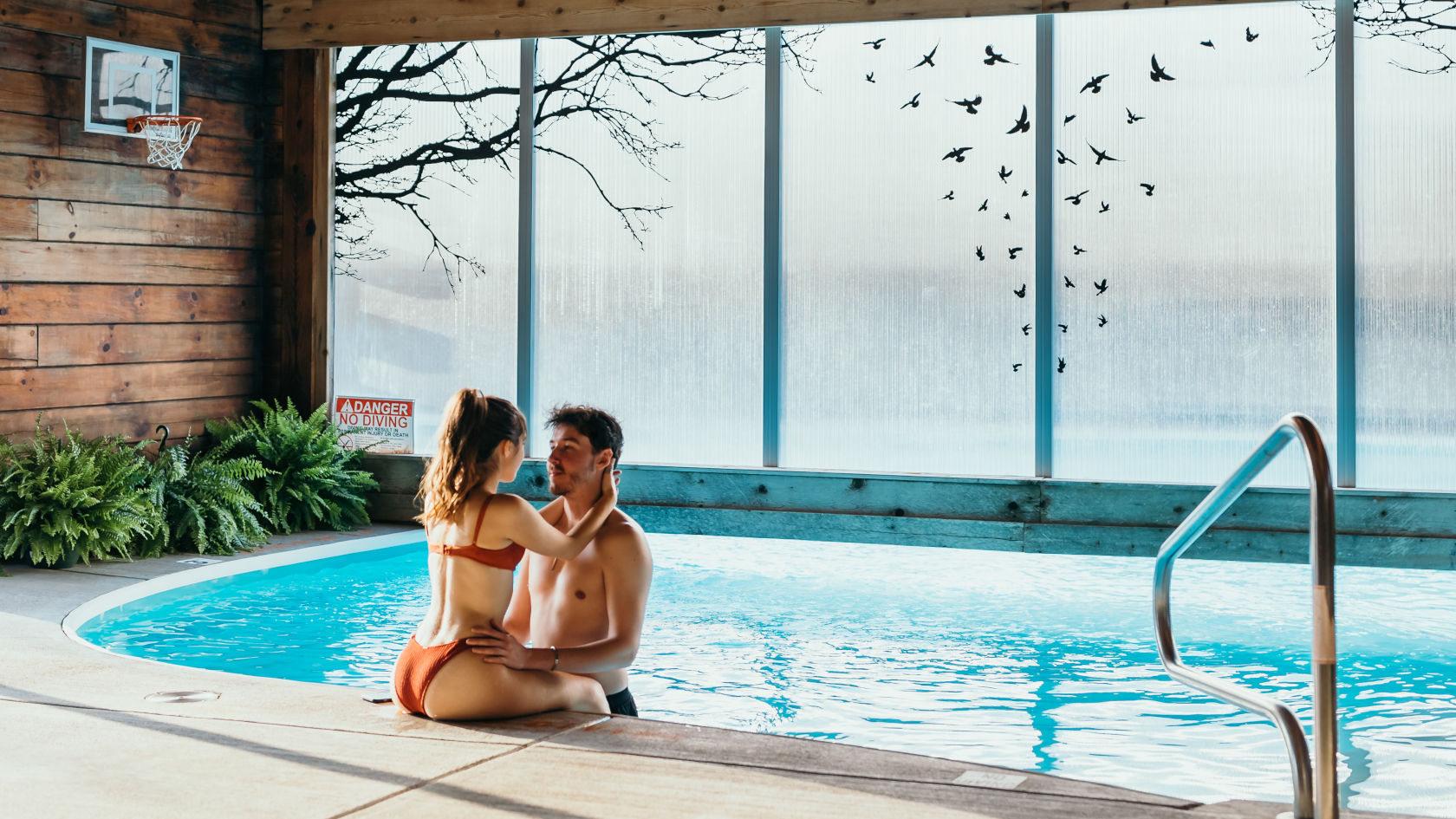 Ridgemont - Lodge With Heated Pool in Hocking Hills
Sleeps 14
4.5 Baths
5 Bedrooms
Game Room
Indoor Outdoor Pool
Ridgemont – our luxury lodge with heated indoor / outdoor pool. Striking the perfect balance between stately home and cozy cabin, The Ridgemont is one of the most stunning lodges we have ever created in Hocking hills. It is environmentally conscious design marries the traditional with the modern and boasts all the luxury amenities you […]
Ridgemont lodge
The Hocking Hills Luxury Lodge
Sleeps 26
3 Private Ponds
5 Baths
7 Bedrooms
Hot Tub
In-ground Pool
Stone Firepit
Located a short drive away from Bourbon Ridge Retreat, nestled in over 50 private acres in The Hocking Hills: we welcome you to experience Bourbon Ridge Retreat's newest sister property – The Hocking Hills Luxury Lodge.
lodge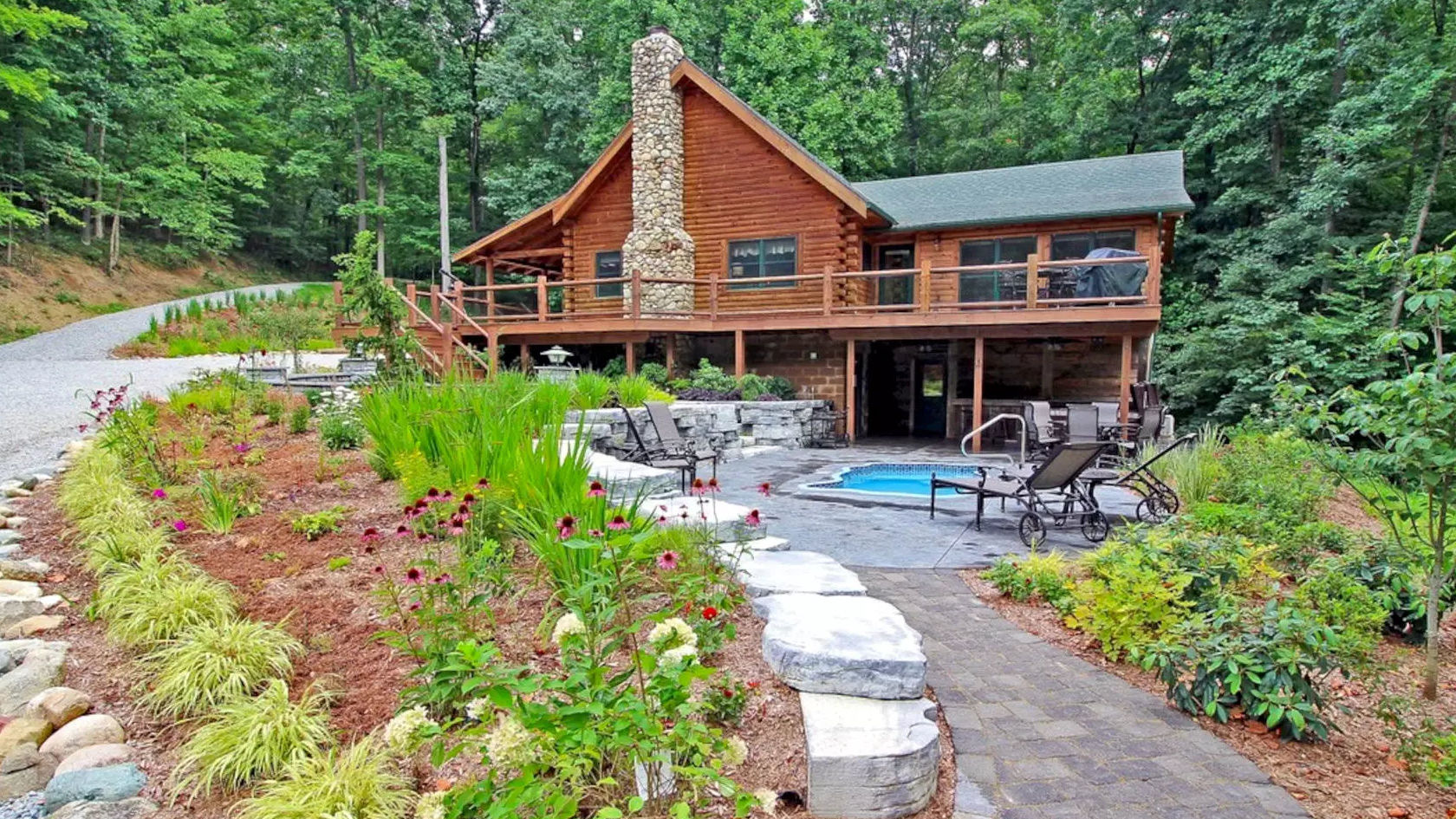 Ridgewater - Lodge With Private Pond in Hocking Hills
Sleeps 12
3 Baths
3 Bedrooms
Outdoor Jacuzzi
Private Pond
Salt Water Pool
Only a short 10 minute drive from Bourbon Ridge Retreat, nestled in over 60 private acres in The Hocking Hills: we welcome you to experience Bourbon Ridge Retreat's sister property – The Ridgewater lodge. Enjoy pure privacy with your group of up to 12 family and friends. From the moment you walk in, you will […]
Ridgewater lodge